How to manage services and navigate in the services list section
Last Updated: April 5, 2023
Applies to: All registered users

How to manage services and navigate in the services list section
This is where you can manage all services in the platform.
Remember: Services are created based on catalogues, so the if you want to know what types of services are available in Doinn please check List of Doinn service types
You can perform all these actions
Apart of that there is also an information related to the services called:
High Priority - means the property has a check-out and check-in the same day
Default Time - this means there were no changes to the initial time coming from an external system (example: Channel Manager or PMS)
In other words, when a service does not have this flag means the hour of the service was changed.

---
1. How to create services manually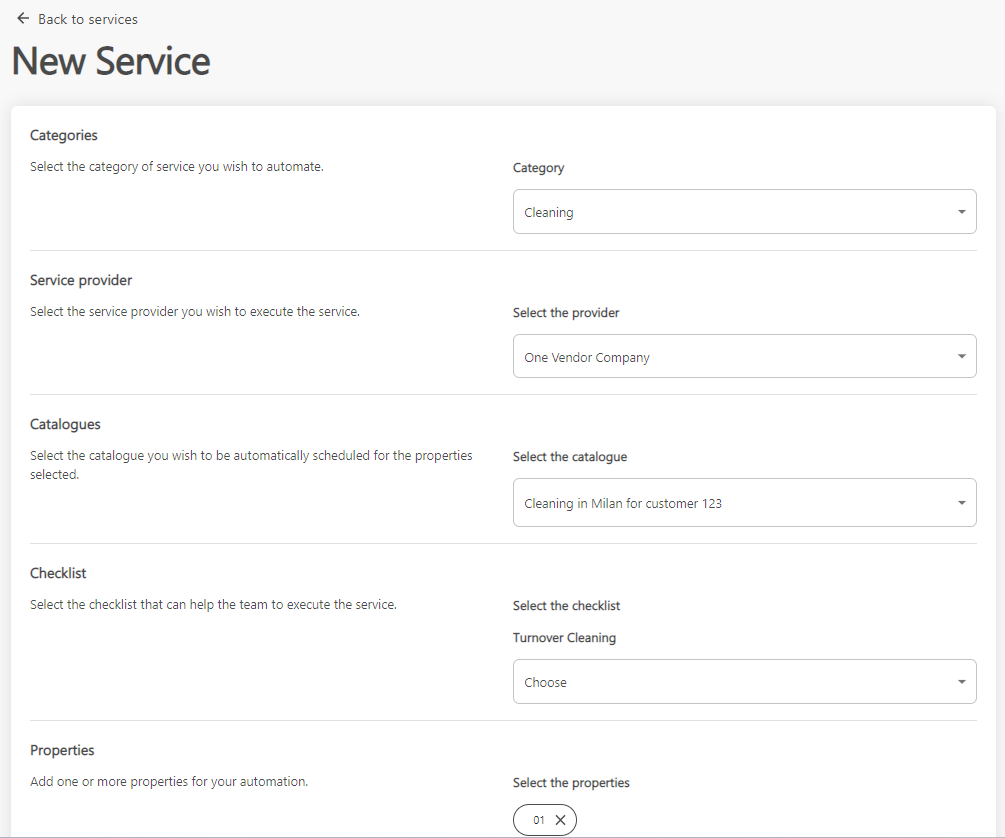 When creating a new service you'll be asked several details:
Category that service belongs:

Gardening,
Maintenance,
Check-in/Check-out,
Cleaning,
Cleaning + Laundry or
Laundry.

Service Provider that executed the service
Note: Your company's name is also in the list for the cases when is executed by internal teams
Catalogues to define what type of service it is
Find here the list of possible catalogues are accepted by Doinn's platform
List of Doinn service types
Please note: If at any moment you request a new catalogue template not available in the platform, please let our team know and validate that addition of the new catalogue
Checklist (optional) which should be associated to the service
Properties where the service should be executed (can be one or more)
Services Extras in case you want to add optional items to your service
Note: Please check here the list of optional item available in List of Doinn optional items
Schedule is the date and hour of the service
Note - The reason why are you creating the manual service. This requires an approval by the other external side (customer or service provider)
Caution: The service will stay pending without the acceptance or the external customer or external service provider. In case service keeps pending state, please make sure you update them to accept this change
---
2. How to filter services in the service list section
It is possible to filter services based on
Period dates

Today
Tomorrow
Last month
Current month
Next month
Custom - choose any date ranges

Source

All sources
My own services
My customers
Doinn customers

More filters - Cities
More filters - Service Status when you want to filter services with specific status

Not confirmed
Confirmed
Done
Cancelled
Scheduled
Started
Pending

More filters - Priorities
More filters - Notes, here you can filter which services have notes or not
More filters - Services Types
More filters - Properties you can select specific range of properties to filter
More filters - Hosts you can select specific hosts to filter
---
3. Assign services to people or teams
You can assign either individual people or teams to each service. Navigate to the services list and click in Assign to

You will see a new dialog box divided in two tabs:
Select the individuals or teams you want to assign to the service and click confirm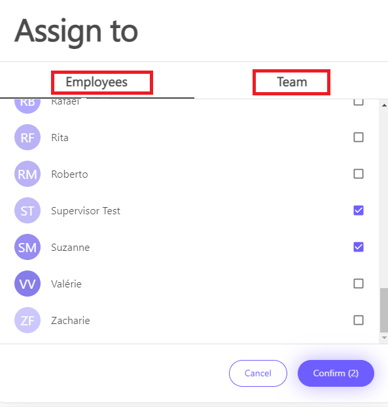 Note: At the moment you assign the services, your staff will receive service details immediately in their profile in the Doinn app. Your staff can can also see all the properties details and instructions where services are executed.
---
4. How to start/stop a service (and job summary creation)
Tip: We suggest that your staff does the start/stop directly in the Doinn Operations App when executing the service, however in desktop is also possible to start and stop the services
Start service
It is possible to start services directly in the desktop app in the service list view

Stop service
It is also possible to finish the job directly in the desktop app. To do so when the service is on going you just need to press the Finish button

After that a service end confirmation is shown where you can
(Optional) Add photos (max 10)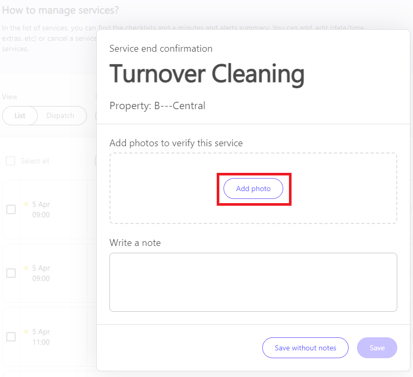 And then either write a note and click Save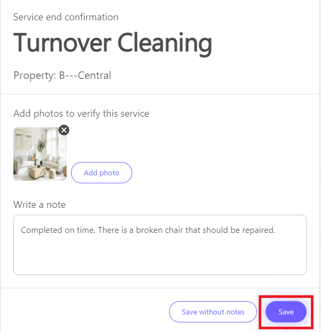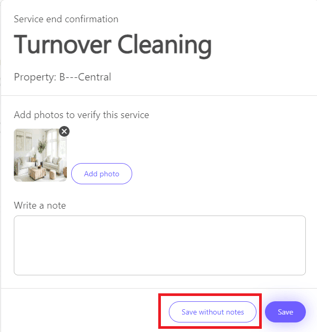 Finally a new Job Summary is created and added to the service. This information will be received by the customer associated (if any) .
---
5. How to use "Services to Confirm" in Services List View
When a change is required from you provider or client, the status of the service is displayed as Pending, waiting for an action from our side.
a. Click on it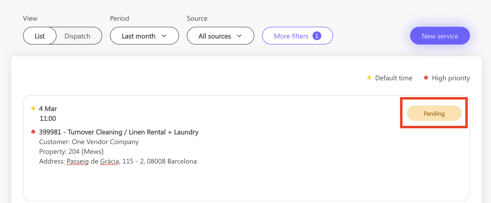 b. Check the request (in the example is related to starting time)
c. Approve or Refuse