Before Doinn: Operational tasks are out of sync, deadlines are missed, and people are feeling overwhelmed. After Doinn: You're on top of things, you feel in control, you can see your progress, and you feel calm.
Use Cloudbeds to manage your bookings and connect Doinn for a seamless experience with your operations.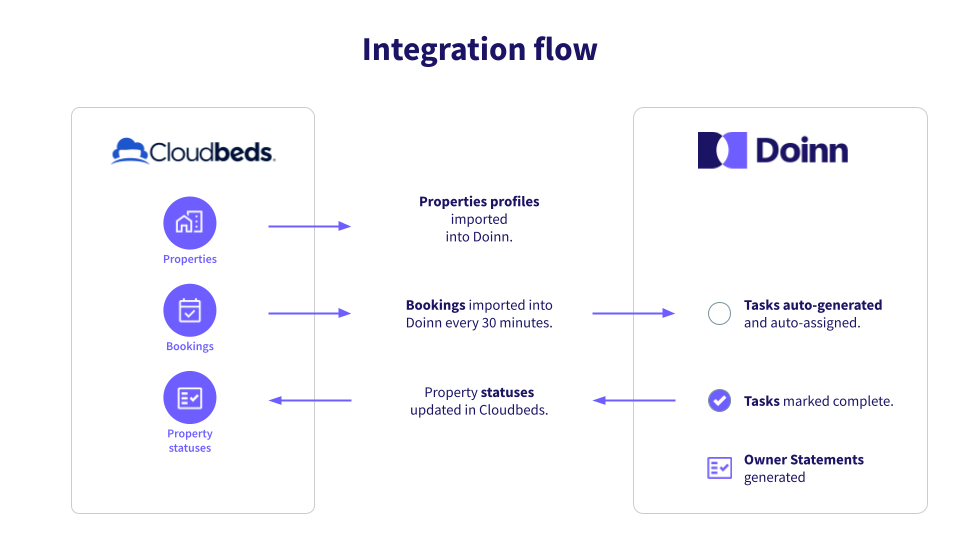 Want to learn more?
How to connect Doinn with Cloudbeds
How to disconnect Doinn from Cloudbeds
Doinn's transformative impact and key advantages for property managers
Automated workflows: Smartly schedule property tasks using communication & auto-scheduling tools and save up to 10 hours per week. This time can be used to focus on other aspects of their business, such as marketing or customer service.
Monitor and predictive data: Intelligent indicators to excel your business. Identify time and costs, average cleaning time per property, linen needs or cleaning hours forecast.
Quality Assurance: Discover how efficient your team can be by digitalizing your processes Enable all the team members to get real-time insights and messages. Our turn-key solution is fully integrated and optimized to support both field and office workers with a wide range of features, including instant messaging, real-time job status updates, checklists, cleaning reports, and much more.
Simple & Affordable: Seamless setup based on the Doinn 5 elements formula ®: what, where, how, when, who, and the integration with Cloudbeds. Usage-based pricing, pay only when you use it.
Take any opportunity to manage properties: Gain seamless access to the finest professional cleaning, linen, and laundry service providers in your area, with coverage spanning hundreds of cities across 44 countries. Best for short-term rental operators and co-livings.
What do clients say about Doinn